Pamphlet
A ghost theme specially designed for building personal websites and portfolios.
Whether you are designer, programmer, entrepreneur, writer, engineer, scientist, musician or a painter, You can use pamphlet for showcasing your work, thoughts and ideas.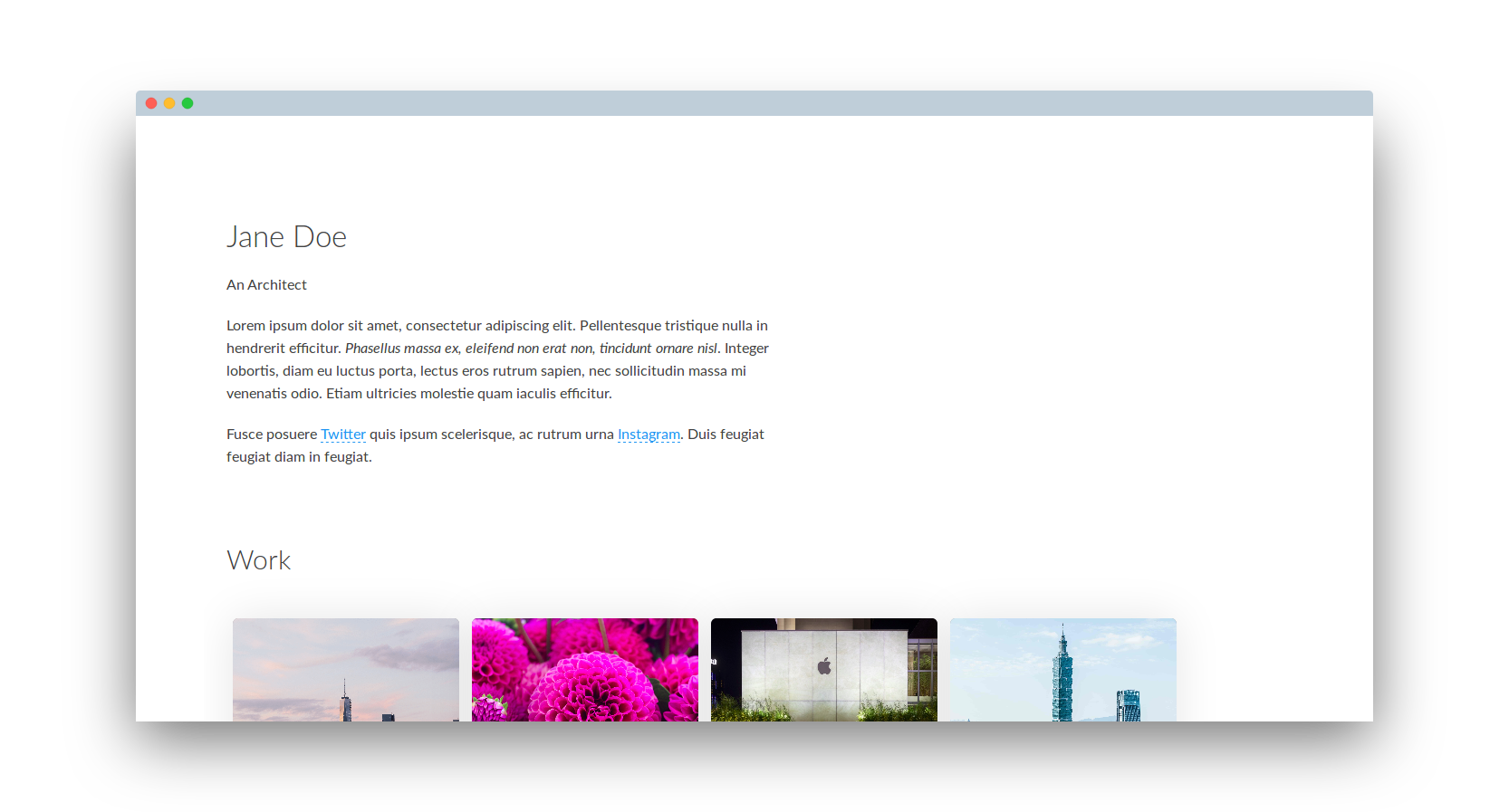 Installation Guide
Login to your ghost dashboard and upload the theme.

To add content to your bio, follow these instructions -

Create a post with slug 'about'
Add content
Check the option 'Turn this post into a page' from the options menu.
Publish

Next activate the 'All Posts' page by creating a page with the slug 'all-posts'.

Next create 'Work' tag from the tags sections.

To add a post to the 'Work' section on the home page, follow these instructions -

Create post with tag 'Work'
Check the option 'Feature this post' from the options menu
Publish

You can activate different social media links in the footer on the home page by removing comments from the div with class 'social-media-ribbon' in the index.hbs file. (By default Twitter and Facebook are active)
Folder Structure
The root directory containes the following files and folders -
assets

src - It containes the source javascript and scss files, which gets compiled to the built directory.
built - It containes the compiled css and js.
img - Containes the images.

dist - This directory is generated by the $ yarn build command and contains the theme's zip file.

default.hbs - The main template file

index.hbs - Used for the home page

post.hbs - Used for individual posts

page.hbs - Used for individual pages

tag.hbs - Used for tag archives

author.hbs - Used for author archives

page-all-posts.hbs - Used for the 'All Posts' page

error.hbs, error-404.hbs - Used for the error pages

package.json
Development
Pamphlet uses gulp and nodejs for the development purposes. You'll need Gulp and Nodejs installed globally. After that from the theme's root directory.
Now you can edit scss and js files in /assets/src/ , which will be compiled to /assets/built/ automatically.
The build Gulp task minifies all the css and js files and packages the theme files into dist/<theme-name>.zip, which you can then upload to your site.
Feedback and Support
Mail - arpit3ansal@gmail.com
Twitter @arp_ban
Copyright & License
copyright (c) 2018 Arpit Bansal